Ah, yes, the end of the year: a time for reflecting on our past mistakes and future ambitions. Today, we're looking back at the most popular baby names in 2018 — which of course, as a hipster parent you must avoid — and scouting ahead to hipster baby name trends for 2019.
According to Baby Center, the most popular baby names in 2018 were Sophia (derived from the Greek for "wisdom" and used by European royalty in the Middle Ages) and Jackson (originally a last name meaning "son of Jack").
The major baby name influencers in 2018 are thanks to Fortnite (Ramirez jumped up 57% for boys, Rogue 47% for girls and 21% for boys), the Kardashian-Jenner family (Stormi rose 63%, Dream 42%), and the aspirational Zen lifestyle (Peace rose 66% for girls, Fern 55% for baby boys).
Naturally, going forward it's best to avoid the most popular names from this year. But what is an expecting hipster parent to do in 2019? Never fear! We're going to walk you through some trends as predicted by Nameberry — but with our own hipster-parent twist.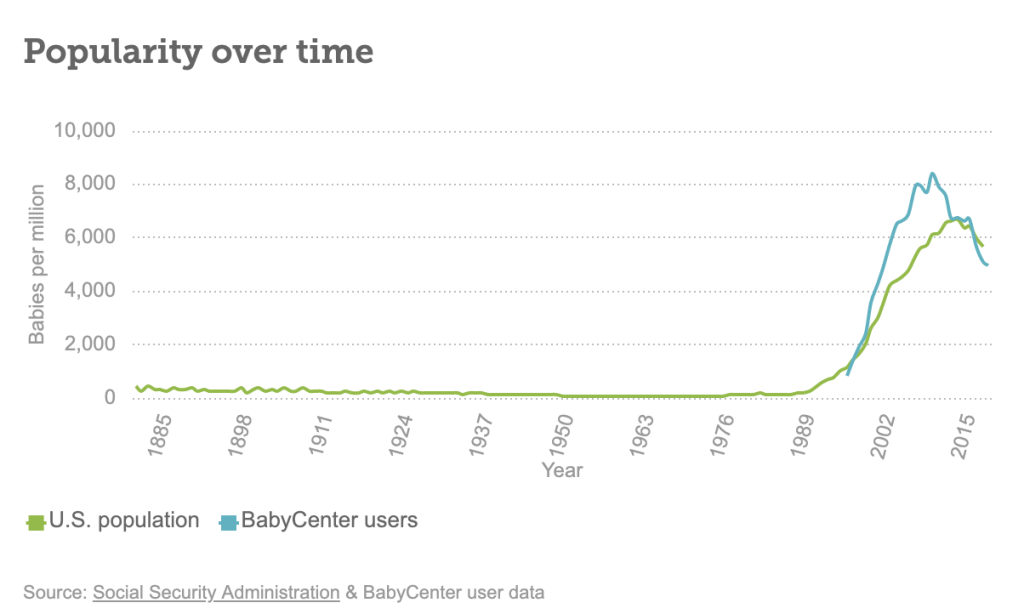 In 2019: Global Names Will Reign
Thankfully, as globalization makes the world smaller, the list of international names gets larger. Any well-traveled hipster parent can choose an international name derived from far-flung places — making it more likely that your newborn will have a unique name when they get to kindergarten. From Maori to Xhosa names, Indian to Israeli names, it's now a breeze to find names that are rare in North America but have deep roots elsewhere.
Global names was identified as the "biggest big picture trend" in baby names for 2019, and it is unlikely to go away in the years to come. But as different cultures cross and co-mingle, it's not enough to have a cool, unique name — you also want a name that is easily pronounceable in various languages. Because you don't want to doom your child to a lifetime of having to spell out her name to everyone, like these hipster parents that regret their "cool" baby names (New York Post).
In fact, the name of my own son was chosen with this consideration in mind. We named him Sander, which is translatable in English, Norwegian, and Mandarin — this was important to us, given our Norwegian, Chinese, and Canadian backgrounds.
But enough gabbing, here are some names:
Want more examples? Here are 106 Girl Names Uncommon in the US and 100 Boy Names Uncommon in the US (Nameberry).
Hipster Names: Go for Non Binary
As hipster parents, we want our children to be free of gender stereotypes, n'est-ce pas? What greater gift than a gender-neutral name? Which means, by the way, no names that end with "son" (like Madison or Jackson), nor names that were originally boy or girl names that have since crossed gender lines (like Charlie). Even better if you can choose a social justice-related name, such as, well, Justice. See this longer list of unisex names from Nameberry for further inspiration, but here are a few to get you started:
Arden
Briar
Ever
Journey
Justice
Haven
Ocean
Quincy
Rebel
River
Wren
Hipster Color Names: Understated Hues
Understated is the new black! Move over bright and vibrant colors (like Scarlett, Ruby, and well… Blue), next year's trend is muted hues (think: Grey, Ash, Mauve).
Ash
Fawn
Gray/Grey
Ivory
Lavender
2019 Name Trends to Absolutely Avoid
Of course, trends are trends, and hipster parents should be the setters, not the followers. Yes, we want to be unique — but don't go overboard, lest you find yourself naming your daughter Abcde, like this woman. (Pronounced "Ab-city." No, really.)
So do yourself a favor and do not get on these bandwagons. You're better than this.
No: Jewel Names
We've been naming girls after pretty things since time immemorial. But the newest trend is to use unusual jewel names to name our boys, too. You know how flaunting your new-money wealth is crass? Naming your kid after rare gems is no better. (And imagine how much you'll hate screaming "Emerald" in the playground in a few years.)
Amethyst
Emerald
Garnet
Jasper
Jet
Onyx
Opal
Peridot
Sapphire
Topaz
No: Celebrity Surname Names
Dear God you'd think the tabloids could never stoop this low. Just: no.
Beckham
Bowie
Ellington
Hendrix
Jolie
Ledger
Lennon
Lennox
Monroe
Wilder
No: Animal Names
Hold on there, Tiger — and slowly back away from the zoo.
No: Vintage Nickname Names for Boys
Hey Buster, do I even need to explain this? But mostly, avoid Johnny, unless you like associations with fictional deranged murderers. (And no naming your kids after memes!)
Alright, Just Keep It Simple: Avoid the Most Popular Names from 2018
Courtesy of Baby Center:
Top Girl Names in 2018
Sophia
Olivia
Emma
Ava
Isabella
Aria
Riley
Amelia
Mia
Layla
Top Boy Names in 2018
Jackson
Liam
Noah
Aiden
Caden
Grayson
Lucas
Mason
Oliver
Elijah
You might like…